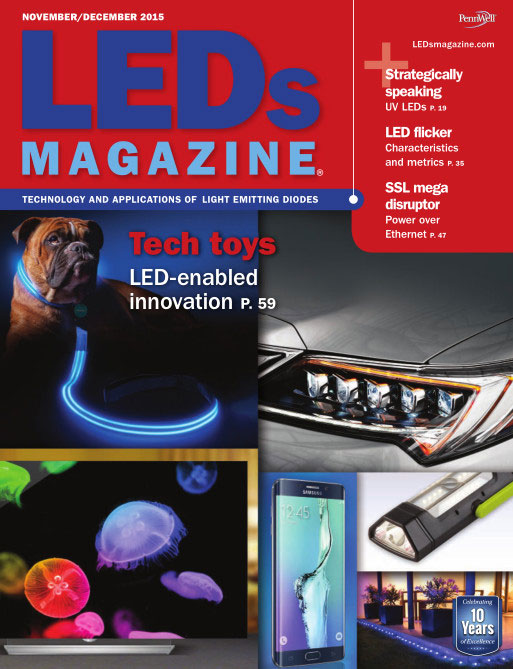 NuLEDs and the Power-Over-Ethernet (POE) movement continue to grow – and with good reason.
The November/December 2015 issue of LEDs magazine features an extensive feature on the growing phenomenon that is Power-Over-Ethernet, continually drawing on the POE work of one of FLC's newest factories, California-based NuLEDs, as a prime purveyor of the new medium and its enormous potential. Author Mark Halper, a contributing editor at LEDs Magazine, uses the NuLEDs Miami-Dade Public Schools projects as a focal point in discussing the medium, also drawing from NuLEDs CEO Chris Isaacson and Chief Business Development Officer Lisa Isaacson.
POE is a medium that has major ramifications for both the lighting and information technology (IT) industries – in fact, Halper focuses extensively on the potential "battle" between the two for control over the technology and its upkeep and development, positing that POE is "setting up a heavyweight title fight between Big Lighting and Big Networking for control of future indoor commercial lighting products and infrastructure."
"Indeed," he continues, "PoE can replace the AC electrical grid in buildings, deliver energy efficiency beyond what inherently efficient LEDs already offer, and enable networking for further savings and adaptive controls." Halper hits the nail on the head here – in its few publicly-known installations, POE has demonstrated tremendous energy savings (as much as 90% in a Reading, PA Independence Blue Cross NuLEDs install) and control capabilities. Since each luminaire becomes its own presence on the Internet Of Things (IOT), it has its own IP address and, accordingly, can be controlled and monitored down to the finest details, including time-sensitive CCT adjustments and light output. With this kind of control and those kinds of energy savings, the sky's the limit, and Fisher Lighting and Controls is proud to be paired with an innovator like NuLEDs.
But don't take our word for it – we strongly encourage you to check out the article.